The COVID-19 pandemic has caused unprecedented disruption in the economy, and the real estate sector has not been spared.

Since the first case was confirmed in Kenya on 13th March 2020, the pandemic has impacted the economy, the workforce and the property market with varying effects.
The government and health directives in place; social distancing directives, travel restrictions, curfews and county lockdowns have all affected the different property sectors – retail, commercial, travel, hospitality and leisure.
As of 5th May 2020, Kenya recorded 535 infections with 182 recoveries and 23 deaths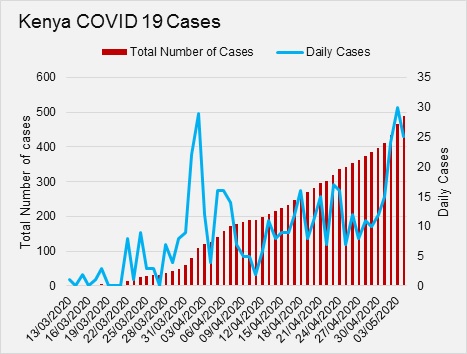 Economic Outlook
Growth in Sub-Saharan Africa (SSA) is projected to slip into its first recession in 25 years with the average growth expected to decline from 2.4 percent in 2019 to a range of between -2.1 and -5.1 percent in 2020, according to the World Bank.
It is unquestionable that Kenya's medium-term growth prospects will be impacted by COVID-19, and much remains uncertain about the magnitude of the effect. However, the situation is evolving quickly; with the global economy tipped for a recession in 2020,with significant negative spillovers into Kenya.
The World Bank has projected a Kenya's GDP growth in 2020 to be 1.5 per cent, with the hardest hit sectors being hospitality, transport and horticulture.Tourism and remittance inflows have contracted significantly due to COVID-19. Reflecting the US dollar's strong appreciation against most currencies. The nominal exchange of the shilling against the US dollar has depreciated by 5 percent between March 13 and April 28 2020.
Across the East Africa region, governments have adopted various initiatives towards curbing the spread of the virus and cushioning the impact on their economies. To find out the various  measures the governments have taken please check out this link.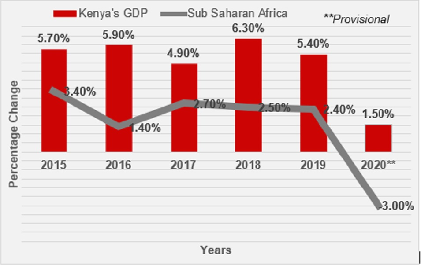 Source: KNBS & World Bank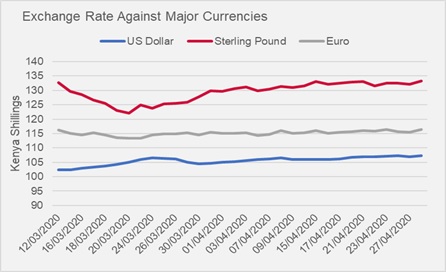 Source: Central Bank
Real Estate Outlook
In the real estate sector, we can see that the pandemic has accelerated certain trends that were already in evidence prior to COVID 19. Trends differ across sectors and Knight Frank Kenya has compiled an assessment of the short-term and longer-term implications so far.
Knight Frank Kenya MD Ben Woodhams said: "We have been monitoring the market closely and our agents and occupier services teams are working hard to ensure we provide the necessary assistance to all our clients as we are in a rapidly evolving situation. These are challenging times and we must all innovate to ensure business continuity."
From our early observations the various property sectors have been affected in the following ways:
Office space
From a commercial leasing perspective,the sector witnessed a 68% decline in office space absorption in the 1st quarter of 2020, compared to the 4th Quarter of 2019,  but a 60% increase compared to the 1st quarter of 2019. The decline in absorption from the previous quarter is primarily because businesses had finalised on their activities before the close of the year and Q1 historically is a slow quarter for office takeup.
Before the pandemic, we had witnessed a good level of enquiries both from international and local corporates, and transactions were underway. Corporates have since placed major decisions on "pause" whilst they assess their position.
We expect a significant slowdown in the absorption of office space in the 2nd Quarter of 2020 as organisations focus on handling the COVID-19 pandemic. This has already been manifested in the form of fewer office inquiries and postponement of key business decisions, causing a delay on imminent lease start dates.
Prime rents remain unchanged at Kshs.130 per sq. ft/month. The stagnation of prime rents over the period was mainly attributed to the oversupply of commercial space in some locations and an unfavourable economic climate.
On occupancy, the key trend we have seen is a large percentage of offices closing and having their employees working from home, or have minimal staff on rotation due to the social distancing directive, curfew, and cessation of movement in select counties.
There has been an increasing trend of landlords and tenants negotiating flexible payment plans where possible, as cash flow is currently greatly affected.
If this pandemic continues, in the mid to long-term, employers may take necessary measures to minimise overheads by downsizing or foregoing their office spaces. Knight Frank's strategic consultancy team have been considering how we will repopulate the workplace and have provided a road map for social distancing and creating a safe place to work.
Five Steps to Re-Occupy your Workplace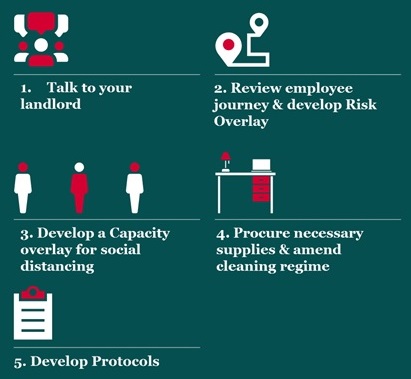 Retail Space
The Retail sector is perhaps the most significantly affected in the property market. The resultant decline in foot traffic to major malls due to various government directives such as curfews and social distancing has resulted in a substantial slowdown of various businesses within retail centres.
However, anchor tenants that provide a one stop shop for fast moving consumer goods,have been witnessing a steady stream of footfall as Kenyans visit the spaces to buy essential goods during this time. Pharmacies and leisure traders selling indoor and outdoors exercise equipment such as bicycle shops have also had a steady stream of shoppers.
Online shopping and deliveries have also increased in this sector as stores collaborate with delivery partners to offer customers convenience to ensure trading continuity. A developing trend has seen retailers fast tracking their online presence as they look to find new ways of reaching their consumers.
In the short term, some landlords have been considering rental concessions on a case by case basis as they understand the difficult situation, and are exploring ways of preserving their cashflows through service charge management and considering turnover based rentals.
Hospitality Space
Like retail, the hospitality sector faces considerable challenges. Due to tightened travel restrictions, hotel occupancies have plummeted forcing some hotels to close temporarily.The government directive barring public and social gatherings and the closure of bars have affected recreational spaces significantly. The ban on all international flights, with the exception of cargo flights, as a strategy to contain the spread of COVID-19 in Kenya, hit the hospitality sector the hardest, owing to its heavy reliance on tourism and the MICE (Meetings, Incentives, Exhibitions, and Conferencing) sectors.
As occupancies declined to about  20% at the beginning of April 2020, several adjustments were made by key players in the hospitality sector.
Some of the key adjustments include:
Temporary closure of some major hotels in Kenya, such as Serena Hotels, Tribe Hotel and Ole Sereni in Nairobi County; Grand Royal Swiss and Sovereign Hotel, in Kisumu County.The Maasai Mara Game Reserve in Narok County also announced that they had suspended operations.
Limiting of business lines;Villa Rosa Kempinski Hotel limiting its business to room service only, suspending other activities such as hosting of meetings, events, and operations in their restaurant and bars.
Laying off or sending workers on unpaid leave until sector picks up.
Residential space
There has been a decline of house sale and rental prices in Nairobi in the first quarter of 2020. This was mainly attributed to the preexisting market conditions rather than the COVID-19 pandemic. Prevailing macro- and micro-economic conditions coupled with an oversupply in the segment have resulted in a sustained price correction which continued into 2020.
However, we have started  to see a decline in prime rental levels during the duration of the pandemic as landlords are prepared to lower their expectations to attract the few new inquiries.
Knight Frank Kenya has already noted a decline in international rental inquiries and by extension the expatriate market as some international prospective tenants have stopped their search and gone back to their home countries for the time being.
Measures taken by companies to mitigate costs during this time,are also making it difficult for tenants to afford their current living situations either because of present circumstances with their employers – such as downsizing, unpaid leave and pay cuts. Property managers and landlords directly have received a number of requests for rent concessions with some landlords extending some discounts, but majority have not.
Nonetheless, activity in the residential market is still ongoing, driven by an active local tenant pool who are contributing to an increase in digital searches, as they are now spending more time online due to the pandemic.
Anthony Havelock, Head of Agency at Knight Frank Kenya, confirms: "Positively our agents are still receiving requests from interested parties who are looking to buy and sell, so there is market activity. In order to ensure business continuity we are incorporating technology such as virtual viewings to facilitate this where possible. We have also experienced  a notable increase in enquiries from the listings on our social media platforms and our website."
A recurring trend is opportunistic buyers/tenants are citing the current situation as a reason for placing lower rents or purchase offers, hoping to meet distressed property owners to get a "good deal.
Transaction levels are expected to fall drastically because of the wait and see attitude being adopted by prospective buyers together with the closure of the various land registries across  the country.
Construction Space 
The completion of projects has been and continues to be affected by delays in the global supply chain, and we will see delay in materials and delay in labour shortages due to health and safety concerns and travel restriction issues. Delays in receipt of funds may also result in stalled projects, in the short term.
To address the effects on the performance of the construction industry, a multi-agency team composed of industry stakeholders drawn from both public and private institutions/organisations have developed health and safety guidelines to be used on construction sites to prevent transmission of the coronavirus (COVID-19).
Download the Construction Guidelines here 
The pandemic has shifted the focus drastically to healthcare and investment opportunities have been highlighted in the Knight Frank Africa Report 2020/2021.
Download the Africa Report 2020/2021 here
Although the severity of the effects of the pandemic on Kenya's real estate sector is still unclear and developing each day, the overall impact will be substantial, and still ultimately depends on its duration and measures that  governments, organisations and individuals are taking to mitigate its adverse effects.
For our clients, Knight Frank Kenya continues to monitor the rapidly evolving situation and are making necessary changes and improvising to ensure we meet our high standards and provide market leading advice in these unprecedented times.
COVID-19 IN Africa: Focus on North Africa
One day ago
Nairobi's prime residential prices continue to fall, although the rate of decline is narrowing
4 days ago
COVID-19 in Africa: Focus on Southern Africa
8 days ago